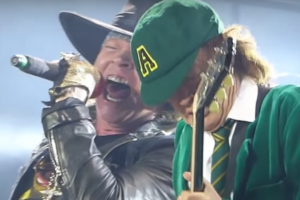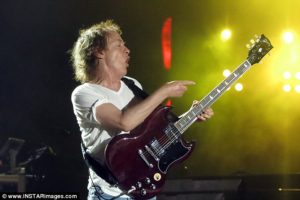 Happy Birthday to the Monster of Rock, Mr. Angus Young who turns 62 years old today. After seeing a clip of his recent appearance on stage with Gun N'Roses in Sydney, Australia last month, Angus still has the energy of a 22 year old.
Let's be honest, the past couple of years for Angus and AC/DC have not been easy. First Angus had to deal with the illness and subsequent retirement of his big brother, Malcolm, to Phil Rudd's legal problems, and then Brian Johnson stepping down due to hearing loss.
After seeing the band in Chicago on September 15, 2015, at Wrigley Field, I was elated at how well they had done with the Rock or Bust tour. Visiting with Angus and Brian the next day, there was no indication that Brian would soon leave the band. Spirits were high, and they were very pleased with the way the tour was going.
Originally due to hearing loss from his racing cars, the arena volume became too much for him and Brian was advised by his doctors to leave in March of 2016. Ten dates in the US were postponed and there was a flurry of speculation on what the band would do next.
Knowing that Malcolm has always taught Angus that the show must go on, no matter what, I had my doubts that it was the end of the band. Admittedly when I heard that Axl Rose would be filling in, I was just as surprised as a lot of AC/DC fans. Axl Rose? The guy who threw temper tantrums, missed performances and took years to resurface for a reunion of Guns N' Roses?
They are a great band in their own right, but I would think it is safe to say that there might never have been a Guns N' Roses without AC/DC. Not to mention that the Tour Manager for Guns N' Roses used to work for AC/DC. And, Axl just happened to be available to give it a go with the band while they were still camped out in Atlanta.
Before you could say Dirty Deeds, Axl Rose was handed the microphone and many loyal AC/DC fans weren't sure what to think. Some actually returned their tickets for the rescheduled dates. I understand loyalty to Brian, but how could you forget about Angus, Cliff, Stevie, and Chris? More importantly, did you forget how their music makes you feel?
When I went to see them in Atlanta on September 1 of 2016, I wasn't quite sure how I would feel about Axl singing AC/DC's songs. It took about two songs to realize that having Axl step in was divine timing. Not only could he hit the high notes, but you could just feel the honor and respect Axl has for Angus and AC/DC. In fact he seemed like a kid in a candy store!
They band rocked it, and hearing "If You Want Blood, (You've Got It)," for the first time live since Bon sang it, was a true rock and roll gift. When you consider that AC/DC influenced Axl Rose and Guns N' Roses, it is a perfect fit.
Once Axl fulfilled his dates with AC/DC, he went out on the Guns N' Roses Reunion tour, which included dates in Australia in February of this year.
Thanks to online messages from Duff McKagan and a couple of other band members, it seemed Guns N' Roses were delayed getting off the plane in Sydney due to "security issues." After patiently waiting in their seats, Angus climbed on board dressed in an orange vest! The best part is that that is something Bon Scott would have done, and it is so wonderful to see Angus being playful and obviously inspired by his new collaboration with Axl and the G N' R boys.
When G N' R performed in Sydney, Angus showed up on stage wearing jeans and a white t-shirt to play "Riff Raff," and "Whole Lotta Rosie." For months there has been speculation and rumors that Angus and Axl would record in the future.
Just as recently as February 23, 2017, Nick DeRiso stated in Ultimate Classic Rock that a new album with Angus and Axl is being planned and won't be released until 2018. Paul Cashmere also reported for Noise 11 that there might even be a live album released with Axl on vocals. Also still in the works is a live DVD of the Rock or Bust tour.
As most fans know, bassist Cliff Williams has decided to retire from the road, but I have heard he could still record with the band. While Guns N' Roses are still on tour, it will be a while before we will know when we get to see AC/DC live again.
I am so happy for Angus and will always be there to support whatever he chooses to do. As long as Angus is out there playing AC/DC songs, the fans will follow. Yes, the band members have changed, but the music remains the same. And those songs will be played for decades to come.
When Bon Scott wrote, "There will be fifteen million fingers, learning how to play," I think even he would be astonished that many of those fingers are 4 and 5 year old AC/DC fans!
So you see, AC/DC lives on, through Angus and the boys, through the thousands of tribute bands and the millions of AC/DC fans worldwide, which continue to grow every day.
It is no secret that I am a huge AC/DC fan, and I adore all the band members. On your birthday, I wanted to thank you Angus, for keeping it together, for following in your big brother's footsteps, and for proving that you are never too old to rock and roll! And Rock 'n' Roll Ain't Noise Pollution!